Choosing Tile For A Kitchen Floor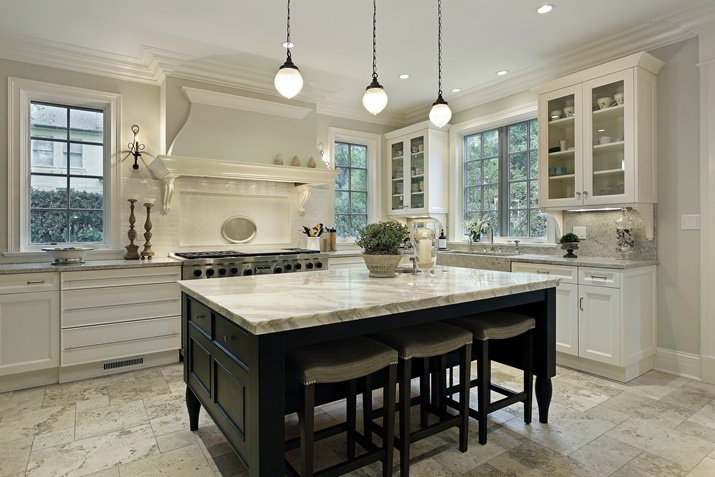 Kitchens have always been the space to enjoy the look and feel of Tile Flooring. Whether it's a backslash or a unique design for your flooring, tile can enhance and improve the design of your kitchen without compromising on functionality. Kitchens, which can get messy, need to have a flooring that is durable without losing design and tile is the perfect choice for homeowners really wanted to ramp up their kitchen with delicate accents and extensive pattern options.
Tile is a dynamic product that has been used for function and meaning for thousands of years. So many different organic materials can be used to compose tile, so the colors, textures and treatments are virtually endless. This enables you to either keep it simple, or go bonkers with color and design. Tile can either be ceramic, stone, metal or glass. Depending on what look you want your kitchen to have, tile flooring can either be a simple, chic canvas for your kitchen or be the statement of the entire space. Tile, although breakable, is also great for spills and other kitchen mishaps that are bound to happen. Manufacturers like Marazzi continue to produce high quality tiles that can transform your kitchen.
Kitchen flooring can be a complicating aspect of your kitchen based solely on the amount of options you have to choose from, and tile is one flooring installation product that can literally make your design your own. It's easy to get overwhelmed, however educating yourself and sifting though colors, materials and manufacturers can narrow down what you want your kitchen to convey as a whole.
Do you have any questions regarding tile products, brands or services? Call Perfect Flooring Pittsburgh today and schedule a free in-home estimate for tile flooring installation for your kitchen today!